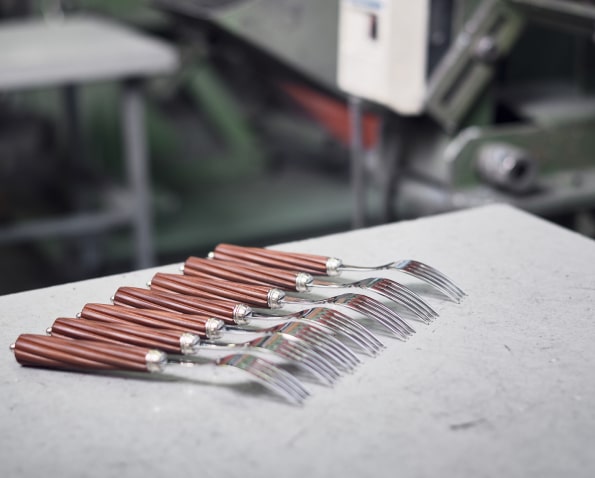 Alain Saint-Joanis prestige and craftsmanship
Alain Saint-Joanis offers exceptional French cutlery. This art craft has been passed down from father to son for several generations. Ancestral savoir-faire, modern techniques, noble materials and incomparable designs make up the Alain Saint-Joanis craft. Choosing our cutlery to dress up your tables means opting for a top-of-the-range fine dining
An ancestral know-how for a modern cutlery
If Alain Saint-Joanis draws its savoir-faire from previous generations, the cutlery house has modernized its manufacturing techniques over the centuries. On the one hand, to respond to a more modern way of life. On the other hand, to offer a real experience thanks to the incomparable design of its cutlery sets. Alain Saint-Joanis creates trendy tableware in an infinite variety of styles.
​​The cutlery house is now revisiting traditional goldsmithing and updating the flagship models of its collections. Alain Saint-Joanis' craftsmanship is inspired by watchmaking and jewelry for an exceptional French cutlery. No detail is left to chance: from the finish of the metal to the design of the handles, rings and bases of the cutlery. Alain Saint-Joanis' craftsmanship means hand-assembled and hand-polished pieces for a unique and authentic look.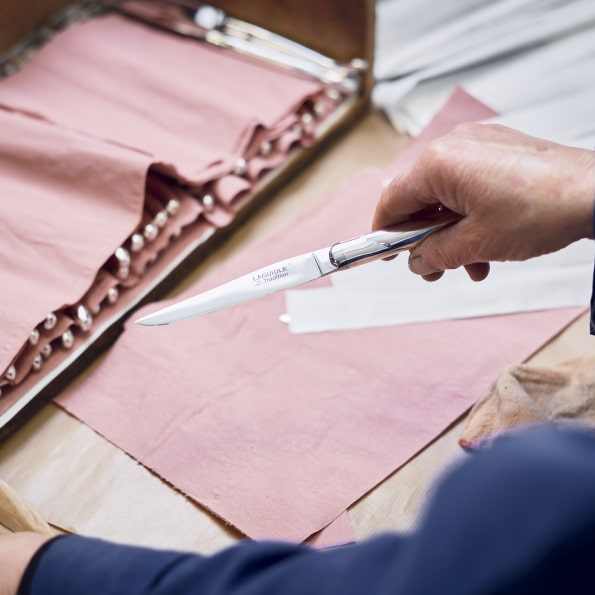 Incomparable designs for every table
Our cutlery house offers modern designs to enhance your tables. Our Prestige Alain Saint-Joanis collection is ideal for a bold and stylish table setting. Our Alain Saint-Joanis Tendance collection is perfect for a simple style with its clean and contemporary lines. Each of our collections is made up of silver, gold or rose gold metalware.
Our handles are made of noble materials, such as amourette wood, ebony, rosewood, or olive wood. Some of our flatware models also have handles in silver and/or gold-plated or lacquered metal. Our cutlery is made of goldsmith-worthy silver-plated metal. Alain Saint-Joanis also offers incomparable designs to match any table.
Choose Alain Saint-Joanis craftsmanship for your fine dining
Made in France, all our tableware is the proof of an ancestral savoir-faire and great quality. The diversity of our models allows you to personalize your table settings. We also offer a custom-made service for cutlery that matches your style. Saint-Joanis craftsmanship fully meets the expectations of professionals and private individuals.
For a table art that reflects your restaurant, specially designed for a particular event or for your simple pleasure: choose Alain Saint-Joanis. Our savoir-faire will fulfill all your desires in the purest tradition of French cutlery.