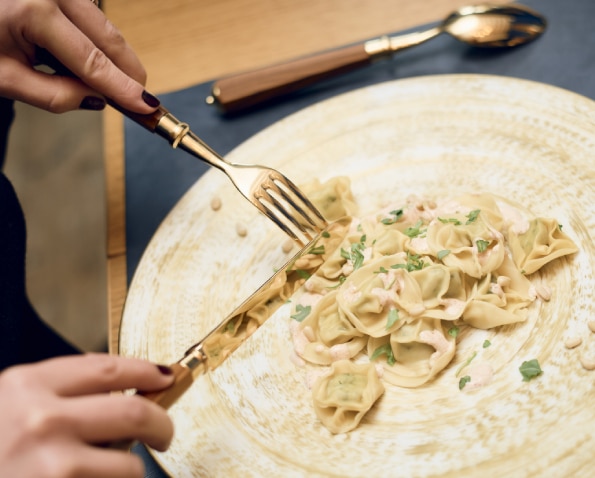 Alain Saint-Joanis: the luxury of French cutlery
Our cutlery house draws its inspiration from prestigious collections. It is an opportunity to perpetuate a traditional savoir-faire through products with an exceptional finish. Since 1876, Alain Saint-Joanis luxury has been enhancing the most beautiful tables around the world. Choosing our tableware means choosing a living art of fine dining: one that transmits a story and an emotion.
Nos Distinctions et Labels
Alain Saint-Joanis' artisanal savoir-faire and luxury
As a reminder of his origins, Alain Saint-Joanis continues to forge his products before applying a gold or silver finish. A savoir-faire passed on from father to son. Alain Saint-Joanis cutlery is made in the pure tradition of French cutlery. Our pieces are assembled by hand before a final polishing, also by hand. The meticulousness of these steps brings a dimension of prestige to our different collections of cutlery sets.
Alain Saint-Joanis' luxury is also reflected by our inspirations. The care and detail of crafts such as watchmaking and jewelry are found in our flatware. The ferrules and bases are worked in silver metal and promise a high-quality finishing detail. This is combined with noble and precious materials for exceptional French cutlery at the service of your art of fine dining.
An art of fine dining that reinvents itself
Our Prestige and Tendance collections are available in many models. Metal, resin or wood handles, each piece is made with the greatest care. Our household knives breathe French elegance. Our cutlery house advocates a refined aesthetic, with clean lines in a classic or contemporary style. Alain Saint-Joanis cutlery is as beautiful as it is functional.
In order to adapt to modern lifestyles, Alain Saint-Joanis has revisited some of the leading models, such as the cutlery set with bamboo handles. Revisiting our old tableware allows us to adapt our savoir-faire to our customers. Alain Saint-Joanis' luxury also includes the customization of our different cutlery sets. Our models are available in other finishes to suit you perfectly. Our cutlery house offers a made-to-measure service, so you can tell your own story with Alain Saint-Joanis tableware.
We put our savoir-faire and our prestige at the service of your needs and desires. The customization of our models allows you to match your cutlery sets to your interior decoration or your tableware. Enough to offer a qualitative experience to all your guests, but also an immersion in your own universe during a delicious meal. Alain Saint-Joanis cutlery is the detail that perfects fine dining.