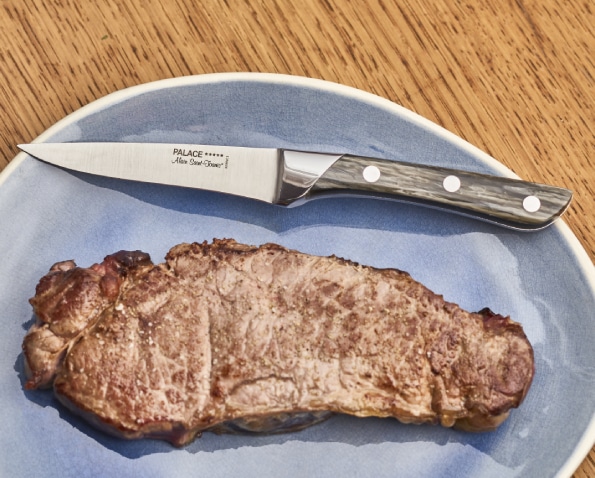 The essence of the Alain Saint-Joanis cutlery house
Our cutlery house has been established for several centuries in the heart of the Puy-de-Dôme. Our ancestors knew how to appropriate this art craft to make exceptional pieces: from table knives to household knives, without forgetting steak knives. Since the origins of Alain Saint-Joanis, our savoir-faire has endured and reinvented itself to adapt more and more to our clientele and to our lifestyles.
Centuries of artisanal savoir-faire
In 2007, the family business Alain Saint-Joanis received the label "Entreprise du patrimoine vivant". This label attests to the transmission of an ancestral expertise: the art of cutlery, the core business of the Saint-Joanis family. The adventure began in 1876, four generations earlier with the manufacture of table knives only. Cutlery sets only appeared later. Thereafter, the handles of the forks and spoons are matched with those of the table knives.
Since then, Alain Saint-Joanis has been committed to producing high-quality tableware. The family has been able to adapt its craftsmanship to new production methods, but also to new lifestyles. Alain Saint-Joanis offers refined and timeless cutlery sets with its Prestige and Tendance collections. Every detail is important to our cutlery house. The family draws its inspiration from other crafts, such as watchmaking or jewelry, and thereby gives life to exceptional flatware.
Nos Distinctions et Labels
A location at the heart of French cutlery
The region of Thiers, where Alain Saint-Joanis has been established since the end of the 19th century, is a strategic place for the company's development. Thiers, the capital of cutlery, is renowned for its savoir-faire on an international scale. It is here that our cutlery house draws its origins and its inspiration. Old cutlery is on display at the Thiers Cutlery Museum. These are the most prestigious collections in the world, synonymous with French elegance in the art of fine dining.
This refined aesthetic inspires certain Alain Saint-Joanis models. Our cutlery house is thus the meeting of a family heritage resulting from an exceptional savoir-faire and high quality French manufacturing. The origins of Alain Saint-Joanis have allowed our cutlery house to become renowned among the most beautiful tables in the world.
Today, Alain Saint-Joanis is still particularly keen to promote French cutlery. This is an opportunity to keep alive an ancestral savoir-faire against a background of great passion. Just like the path taken since 1876 by their creators, Alain Saint-Joanis cutlery tells a story. The story of a family of cutlery craftsmen working for the beauty of the art of fine dining from the world capital of cutlery.