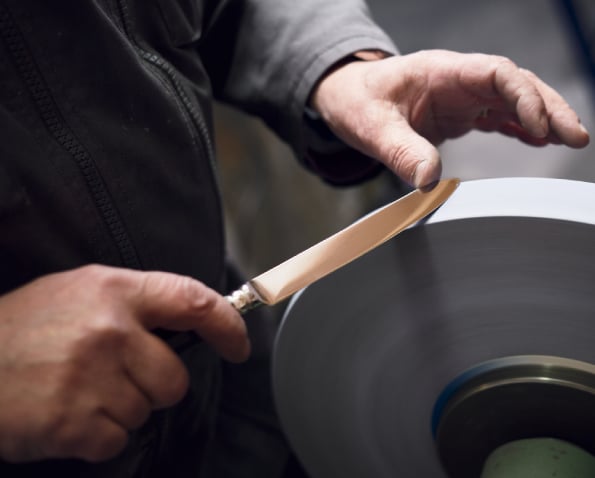 The savoir-faire of the Maison Alain Saint-Joanis
Alain Saint-Joanis' passion and savoir-faire have been passed down through the ages since 1876. Our family business offers exceptional cutlery by working manually with noble and precious materials, such as metal or wood.
Our cutlery house offers timeless collections that are always at the forefront of trends. All of this is done with respect for this craft of art and French manufacturing.
Maison Alain Saint-Joanis: a family legacy
The craft of cutlery has been passed down in our family for four generations. From father to son, the passion for these everyday objects does not weaken. Alain Saint-Joanis has been offering refined cutlery since 1876. Over the generations, the company has never stopped developing its cutlery offer to make the cutlery set the flagship product.
Some of the cutlery set collections have been brought up to date. Still using noble materials, the family has adapted the Alain Saint-Joanis savoir-faire to modern requirements. Thus, the Prestige and Tendance collections are suitable for daily use and intensive washing in the dishwasher.
Cutlery and fine dining: a French production
Each Alain Saint-Joanis piece is unique and made in France. Our cutlery and steak knives are forged from stainless steel and arrive unfinished in our workshop in La Monnerie-le-Montel.
The forged products then go through the hands of our craftsmen who carry out several steps before applying a gold or silver metal finish. Once the blade is forged, it must go through two extremely important stages. First, the grinding that gives the blade its sharpness and then the heat treatment that gives the blade its hardness. Afterwards, a first polishing prepares our cutlery for assembly.
The handles we use are made by craftsmen specialized in their field.
After assembly, the Alain Saint-Joanis pieces undergo a final polishing by hand before being used to enhance your most beautiful tables.
Nos Distinctions et Labels
Craftsmanship: recognition of Alain Saint-Joanis' savoir-faire
In 2007, Alain Saint-Joanis was awarded the Entreprise du Patrimoine Vivant (Living Heritage Company) label, a guarantee of the savoir-faire passed on for four generations.Our cutlery house is thus recognized for the exercise of its craftsmanship and the quality of its fine dining tableware.
As early as 1908, the Ministry of Commerce certified the quality of Alain Saint-Joanis products through a diploma. An aspect that continues from father to son in favor of this exceptional profession.
Our company has also been awarded with the title of "Atelier d'art de France", thanks to the savoir-faire we have been perpetuating for many years. A family tradition based on passion, which has earned Alain Saint-Joanis international recognition for French cutlery. Indeed, Alain Saint-Joanis' cutlery sets sublimate the greatest tables in the world.